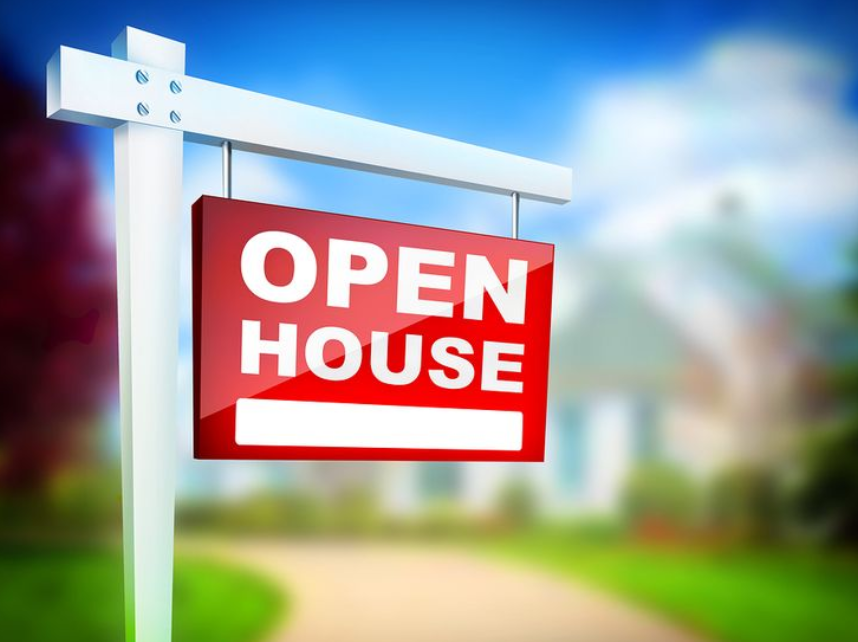 If your trying to sell your home on your own, one of the best ways to get more people through the door and to save yourself time is to hold an open house. While most open house visitors are tire kickers, they can provide valuable information in helping you get your home sold.
Here is a template for hosting a successful open house that will maximize the amount of foot traffic, minimize the risk of theft, and get some good feedback about how people feel about the house and its price.
Market Your Open House on Zillow and Other Real Estate Websites
One week prior to holding your open house, you should add that your are having an open house to your Zillow listing as well as any other website you are advertising on. This will allow for the most views leading up to the open house.
Put A Sign In The Front Yard
On the Monday prior to holding your open house, place a sign in the front yard with the day and time of the open house.
Social Media Advertising
On the Tuesday before your open house create social media posts on the platforms you use the most. Make sure you ask specificially if people know anyone looking to move into the area. Ask them specifically to like, tag, comment or share the post so it gets more traction. If someone is tagged send them a DM and ask if they would be interested in seeing the home during the open house.
E-mail Your List Of Friends And Family
Send out an e-mail to your list of friends and family. Ask them to forward it to anyone they know that might be moving to the area. If they know someone try to get their name and contact information and call them directly to invite them to the open house.
Open House Flyers
Have flyers with information and pictures of the house available to hand out at the open house. You can create flyers fairly easily at www.canva.com (for free!)
On The Day Of The Open House Prior To Showtime, Do This:
People do come to open houses to steal. Store away any medicine, valuables, money, etc. These items are easy targets because you may not notice its missing.
Make sure your home is show ready prior to putting out your open house signs.
Once the home is ready, about an hour prior to the open house put out signs advertising the open house at major intersections and streets around the home. Advertise it as a new builder would with balloons and lots of signs. Get people's attention!
Send out one more social media blast on your favorite platforms reminding folks that the open house is today.
If you talked to anyone about coming to the open house prior to today, give them a call/text/e-mail and remind them to stop by.
Make sure to have a partner to do the open house with you.
The House Is Open, Now What?
Make sure you have a sign in sheet. Anyone who comes to the open house should sign in with their name and phone number. This is not only for security but also so you can follow up with them after.
If possible, do not allow folks to roam the home alone. Engage them by asking questions, trying to guage their interest but also letting them know that you are keeping an eye on them in case they have alterior motives.
If you have a partner, try to ensure that someone is with visitors at all time. You don't have to be right next to them but just trailing them while engaging them.
Ask open ended question such as "Do you have a home to sell?"; "What made you decide to move out to this area?"; "What lender are you working with?"; "Do you have a real estate agent."; These questions and others will help you understand their motives and how close they are to actually making a purchase.
The Open House Is Over, Now What?
The day after the open house, follow up with the folks that came through by calling them. Try to get some feedback about how they feel about the house. Hopefully someone is interested! But if not, don't be discouraged, most open house visitors are tire kickers. It only takes one buyer though so keep advertising your property.
Conclusion
By using this template for your open house you should be able to maximize the amount of foot traffic, minimize the risk of theft, and get some good feedback about how people feel about the house and its price. Think of it as intelligence gathering and use that information to make any necessary tweaks to the home and price if necessary.
If you have questions about how to do any of this or need advice don't hesitate to reach out. I would be happy to talk you through it or provide examples.
Thanks for reading and happy selling!